This is a general representation of what we carry in-store, please give us a call for pricing and availability.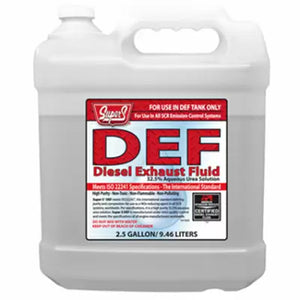 Super S Diesel Exhaust Fluid - DEF
---
---
DEF - Diesel Exhaust Fluid
Super S DEF is a high purity 32.5% (by weight) aqueous urea solution (urea in de-ionized water) developed for use in all SCR (Selective Catalytic Reduction) Emission Control Systems. DEF is a reducing agent which is injected into the hot exhaust gas stream downstream of the diesel particulate filter. It vaporizes in the hot exhaust gas to form ammonia and carbon dioxide which then reacts with the SCR system catalytic converter and the NOx (oxides of nitrogen) in the exhaust, converting the harmful NOx emissions to harmless nitrogen and water. DEF meets ISO 22241-2 specifications and meets all applicable standards and specifications for use in all SCR systems.
Provided in white 1 and 2 gallon containers, semi-transparent white 275 gallon totes as well as plastic drums. The white containers block sunlight which will degrade DEF and help it to stay cooler, which will increase shelf life.
No special handling is required - It's easy to use.
It is: Non-toxic · Non-flammable · Non-polluting · Non-hazardous
Compliance
Super S DEF meets the ISO 22241 specification, which is the worldwide standard and specification for DEF. It meets or exceeds all applicable standards, certifications and manufacturer's performance requirements, including purity and composition, for use in all SCR emission control systems.
Applications
For use in SCR (Selective Catalytic Reduction) Emission Control Systems for automotive and heavy duty diesel engines in order to meet the EPA 2010 initiatives for near zero levels of NOx emissions from diesel exhaust.
Special Handling, Notices Or Warnings
Care in handling should be taken according to ISO 22241-3. Avoid temperatures below -12 ˚F and above 95 ˚F. If DEF is frozen it may be thawed without degradation. Shelf life begins to reduce when DEF is stored above 86°F and/or is stored in an open container. DEF is highly corrosive to aluminum, copper, brass, zinc, lead, magnesium, mild steel and plastics or metals coated with nickel. It should be stored in plastic or stainless steel containers. All surfaces that come into contact with DEF must be free of foreign matter.
---
We Also Recommend
---