This is a general representation of what we carry in-store, please give us a call for pricing and availability.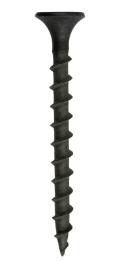 Grip Rite 5 Lb Phillips Drywall Screws
---
---
As the most preferred brand in construction fasteners, Grip-Rite® knows contractors…and we know they want the highest performing product at the best value. Grip-Rite drywall screws are exclusively available in both coarse and fine thread for drywall with easily recognizable, signature Grip-Rite color coded packaging to help quickly find the right product for your project.
FEATURES AND BENEFITS
Coarse thread drywall screws

 

are used in drywall to wood studs.
| | | | | | | | | | | |
| --- | --- | --- | --- | --- | --- | --- | --- | --- | --- | --- |
| MATERIAL | GUAGE | LENGTH | POINT | THREAD TYPE | HEAD TYPE | DRIVE STYLE | QTY | COATING | COLOR | CERT |
| 3CDWS2M | 8 gauge | 3 " | Sharp Point | Coarse Thread | Bugle Head | #2 Phillips | 2000 | Black Phosphate | Black | ASTM C-1002 |
| 3SCDWS2M | 8 gauge | 3 " | Sharp Point | Coarse Thread | Bugle Head | Square Drive | 2000 | Black Phosphate | Black | ASTM C-1002 |
| 3CDWS1 | 8 gauge | 3 " | Sharp Point | Coarse Thread | Bugle Head | #2 Phillips | 83 | Black Phosphate | Black | ASTM C-1002 |
| 3SCDWS1 | 8 gauge | 3 " | Sharp Point | Coarse Thread | Bugle Head | Square Drive | 83 | Black Phosphate | Black | ASTM C-1002 |
| 3CDWS5 | 8 gauge | 3 " | Sharp Point | Coarse Thread | Bugle Head | #2 Phillips | 415 | Black Phosphate | Black | ASTM C-1002 |
| 3SCDWS5 | 8 gauge | 3 " | Sharp Point | Coarse Thread | Bugle Head | Square Drive | 415 | Black Phosphate | Black | ASTM C-1002 |
| 3CDWS25BK | 8 gauge | 3 " | Sharp Point | Coarse Thread | Bugle Head | #2 Phillips | 2075 | Black Phosphate | Black | ASTM C-1002 |
| 212CDWS25M | 8 gauge | 2-1/2 " | Sharp Point | Coarse Thread | Bugle Head | #2 Phillips | 2500 | Black Phosphate | Black | ASTM C-1002 |
| 212CDWS1 | 8 gauge | 2-1/2 " | Sharp Point | Coarse Thread | Bugle Head | #2 Phillips | 119 | Black Phosphate | Black | ASTM C-1002 |
| 212CDWS5 | 8 gauge | 2-1/2 " | Sharp Point | Coarse Thread | Bugle Head | #2 Phillips | 595 | Black Phosphate | Black | ASTM C-1002 |
| 212CDW25BK | 8 gauge | 2-1/2 " | Sharp Point | Coarse Thread | Bugle Head | #2 Phillips | 2975 | Black Phosphate | Black | ASTM C-1002 |
| 2CDWS81 | 8 gauge | 2 " | Sharp Point | Coarse Thread | Bugle Head | #2 Phillips | 175 | Black Phosphate | Black | ASTM C-1002 |
| 2CDWS85 | 8 gauge | 2 " | Sharp Point | Coarse Thread | Bugle Head | #2 Phillips | 875 | Black Phosphate | Black | ASTM C-1002 |
| 2CDWS825BK | 8 gauge | 2 " | Sharp Point | Coarse Thread | Bugle Head | #2 Phillips | 4375 | Black Phosphate | Black | ASTM C-1002 |
| 158CDWS1 | 8 gauge | 1-5/8 " | Sharp Point | Coarse Thread | Bugle Head | #2 Phillips | 200 | Black Phosphate | Black | ASTM C-1002 |
| 158CDWS81 | 8 gauge | 1-5/8 " | Sharp Point | Coarse Thread | Bugle Head | #2 Phillips | 200 | Black Phosphate | Black | ASTM C-1002 |
| 158CDWS85 | 8 gauge | 1-5/8 " | Sharp Point | Coarse Thread | Bugle Head | #2 Phillips | 1000 | Black Phosphate | Black | ASTM C-1002 |
| 158CDWS825BK | 8 gauge | 1-5/8 " | Sharp Point | Coarse Thread | Bugle Head | #2 Phillips | 5000 | Black Phosphate | Black | ASTM C-1002 |
| 118CDW25BK | 8 gauge | 1-1/8 " | Sharp Point | Coarse Thread | Bugle Head | #2 Phillips | 7150 | Black Phosphate | Black | ASTM C-1002 |
| 114CDWS81 | 8 gauge | 1-1/4 " | Sharp Point | Coarse Thread | Bugle Head | #2 Phillips | 258 | Black Phosphate | Black | ASTM C-1002 |
| 114CDWS85 | 8 gauge | 1-1/4 " | Sharp Point | Coarse Thread | Bugle Head | #2 Phillips | 1290 | Black Phosphate | Black | ASTM C-1002 |
| 114CDWS825BK | 8 gauge | 1-1/4 " | Sharp Point | Coarse Thread | Bugle Head | #2 Phillips | 6450 | Black Phosphate | Black | ASTM C-1002 |
| 34CDWS10M | 6 gauge | 3/4 " | Sharp Point | Coarse Thread | Bugle Head | #2 Phillips | 10000 | Black Phosphate | Black | ASTM C-1002 |
| 214CDWS3M | 6 gauge | 2-1/4 " | Sharp Point | Coarse Thread | Bugle Head | #2 Phillips | 3000 | Black Phosphate | Black | ASTM C-1002 |
| 214CDWS1 | 6 gauge | 2-1/4 " | Sharp Point | Coarse Thread | Bugle Head | #2 Phillips | 136 | Black Phosphate | Black | ASTM C-1002 |
| 214CDWS5 | 6 gauge | 2-1/4 " | Sharp Point | Coarse Thread | Bugle Head | #2 Phillips | 680 | Black Phosphate | Black | ASTM C-1002 |
| 214CDW25BK | 6 gauge | 2-1/4 " | Sharp Point | Coarse Thread | Bugle Head | #2 Phillips | 3400 | Black Phosphate | Black | ASTM C-1002 |
| 2CGDWS35M | 6 gauge | 2 " | Sharp Point | Coarse Thread | Bugle Head | #2 Phillips | 3500 | Black Phosphate | Black | ASTM C-1002 |
| 2CDWS35M | 6 gauge | 2 " | Sharp Point | Coarse Thread | Bugle Head | #2 Phillips | 5000 | Black Phosphate | Black | ASTM C-1002 |
| 2CGCDWS35M | 6 gauge | 2 " | Sharp Point | Coarse Thread | Bugle Head | #2 Phillips | 3500 | Black Phosphate | Black | ASTM C-1002 |
| 2CDWS1 | 6 gauge | 2 " | Sharp Point | Coarse Thread | Bugle Head | #2 Phillips | 175 | Black Phosphate | Black | ASTM C-1002 |
| 2CDWS5 | 6 gauge | 2 " | Sharp Point | Coarse Thread | Bugle Head | #2 Phillips | 875 | Black Phosphate | Black | ASTM C-1002 |
| 2CDWS25BK | 6 gauge | 2 " | Sharp Point | Coarse Thread | Bugle Head | #2 Phillips | 4375 | Black Phosphate | Black | ASTM C-1002 |
| 158CGDWS5M | 6 gauge | 1-5/8 " | Sharp Point | Coarse Thread | Bugle Head | #2 Phillips | 5000 | Black Phosphate | Black | ASTM C-1002 |
| 158CDWS5M | 6 gauge | 1-5/8 " | Sharp Point | Coarse Thread | Bugle Head | #2 Phillips | 5000 | Black Phosphate | Black | ASTM C-1002 |
| 158CGCDWS5M | 6 gauge | 1-5/8 " | Sharp Point | Coarse Thread | Bugle Head | #2 Phillips | 5000 | Black Phosphate | Black | ASTM C-1002 |
| 158SCDWS5M | 6 gauge | 1-5/8 " | Sharp Point | Coarse Thread | Bugle Head | Square Drive | 5000 | Black Phosphate | Black | ASTM C-1002 |
| 158SCDWS1 | 6 gauge | 1-5/8 " | Sharp Point | Coarse Thread | Bugle Head | Square Drive | 200 | Black Phosphate | Black | ASTM C-1002 |
| 158CDW10BK | 6 gauge | 1-5/8 " | Sharp Point | Coarse Thread | Bugle Head | #2 Phillips | 2000 | Black Phosphate | Black | ASTM C-1002 |
| 158CDWS5 | 6 gauge | 1-5/8 " | Sharp Point | Coarse Thread | Bugle Head | #2 Phillips | 1000 | Black Phosphate | Black | ASTM C-1002 |
| 158SCDWS5 | 6 gauge | 1-5/8 " | Sharp Point | Coarse Thread | Bugle Head | Square Drive | 1000 | Black Phosphate | Black | ASTM C-1002 |
| 158CDW25BK | 6 gauge | 1-5/8 " | Sharp Point | Coarse Thread | Bugle Head | #2 Phillips | 5000 | Black Phosphate | Black | ASTM C-1002 |
| 118CGDWS10M | 6 gauge | 1-1/8 " | Sharp Point | Coarse Thread | Bugle Head | #2 Phillips | 10000 | Black Phosphate | Black | ASTM C-1002 |
| 118CDWS10M | 6 gauge | 1-1/8 " | Sharp Point | Coarse Thread | Bugle Head | #2 Phillips | 10000 | Black Phosphate | Black | ASTM C-1002 |
| 118CGCDWS10M | 6 gauge | 1-1/8 " | Sharp Point | Coarse Thread | Bugle Head | #2 Phillips | 10000 | Black Phosphate | Black | ASTM C-1002 |
| 118CDWS1 | 6 gauge | 1-1/8 " | Sharp Point | Coarse Thread | Bugle Head | #2 Phillips | 286 | Black Phosphate | Black | ASTM C-1002 |
| 118CDWS5 | 6 gauge | 1-1/8 " | Sharp Point | Coarse Thread | Bugle Head | #2 Phillips | 1430 | Black Phosphate | Black | ASTM C-1002 |
| 114CDWS8M | 6 gauge | 1-1/4 " | Sharp Point | Coarse Thread | Bugle Head | #2 Phillips | 8000 | Black Phosphate | Black | ASTM C-1002 |
| 114CGCDWS8M | 6 gauge | 1-1/4 " | Sharp Point | Coarse Thread | Bugle Head | #2 Phillips | 8000 | Black Phosphate | Black | ASTM C-1002 |
| 114SCDWS8M | 6 gauge | 1-1/4 " | Sharp Point | Coarse Thread | Bugle Head | Square Drive | 8000 | Black Phosphate | Black | ASTM C-1002 |
| 114CDWS1 | 6 gauge | 1-1/4 " | Sharp Point | Coarse Thread | Bugle Head | #2 Phillips | 258 | Black Phosphate | Black | ASTM C-1002 |
| 114SCDWS1 | 6 gauge | 1-1/4 " | Sharp Point | Coarse Thread | Bugle Head | Square Drive | 258 | Black Phosphate | Black | ASTM C-1002 |
| 114CDW10BK | 6 gauge | 1-1/4 " | Sharp Point | Coarse Thread | Bugle Head | #2 Phillips | 2580 | Black Phosphate | Black | ASTM C-1002 |
| 114CDWS5 | 6 gauge | 1-1/4 " | Sharp Point | Coarse Thread | Bugle Head | #2 Phillips | 1290 | Black Phosphate | Black | ASTM C-1002 |
| 114SCDWS5 | 6 gauge | 1-1/4 " | Sharp Point | Coarse Thread | Bugle Head | Square Drive | 1290 | Black Phosphate | Black | ASTM C-1002 |
| 114CDW25BK | 6 gauge | 1-1/4 " | Sharp Point | Coarse Thread | Bugle Head | #2 Phillips | 6450 | Black Phosphate | Black | ASTM C-1002 |
| 112CDWS6M | 6 gauge | 1-1/2 " | Sharp Point | Coarse Thread | Bugle Head | #2 Phillips | 6000 | Black Phosphate | Black | ASTM C-1002 |
| 112CDWS1 | 6 gauge | 1-1/2 " | Sharp Point | Coarse Thread | Bugle Head | #2 Phillips | 250 | Black Phosphate | Black | ASTM C-1002 |
| 1CDWS10M | 6 gauge | 1 " | Sharp Point | Coarse Thread | Bugle Head | #2 Phillips | 10000 | Black Phosphate | Black | ASTM C-1002 |
| 1CDWS1 | 6 gauge | 1 " | Sharp Point | Coarse Thread | Bugle Head | #2 Phillips | 313 | Black Phosphate | Black | ASTM C-1002 |
| 1CDWS5 | 6 gauge | 1 " | Sharp Point | Coarse Thread | Bugle Head | #2 Phillips | 1565 | Black Phosphate | Black | ASTM C-1002 |
| 1CDWS25BK | 6 gauge | 1 " | Sharp Point | Coarse Thread | Bugle Head | #2 Phillips | 7825 | Black Phosphate | Black | ASTM C-1002 |
| 6CDWS1M | 10 gauge | 6 " | Sharp Point | Coarse Thread | Bugle Head | #2 Phillips | 1000 | Black Phosphate | Black | ASTM C-1002 |
| 6CDWS500 | 10 gauge | 6 " | Sharp Point | Coarse Thread | Bugle Head | #2 Phillips | 500 | Black Phosphate | Black | ASTM C-1002 |
| 6CDWS1 | 10 gauge | 6 " | Sharp Point | Coarse Thread | Bugle Head | #2 Phillips | 32 | Black Phosphate | Black | ASTM C-1002 |
| 5CDWS1M | 10 gauge | 5 " | Sharp Point | Coarse Thread | Bugle Head | #2 Phillips | 1000 | Black Phosphate | Black | ASTM C-1002 |
| 4CDWS1M | 10 gauge | 4 " | Sharp Point | Coarse Thread | Bugle Head | #2 Phillips | 1000 | Black Phosphate | Black | ASTM C-1002 |
| 4CDWS1 | 10 gauge | 4 " | Sharp Point | Coarse Thread | Bugle Head | #2 Phillips | 42 | Black Phosphate | Black | ASTM C-1002 |
| 4CDWS5 | 10 gauge | 4 " | Sharp Point | Coarse Thread | Bugle Head | #2 Phillips | 210 | Black Phosphate | Black | ASTM C-1002 |
| 4CDWS25BK | 10 gauge | 4 " | Sharp Point | Coarse Thread | Bugle Head | #2 Phillips | 1050 | Black Phosphate | Black | ASTM C-1002 |
| 312CDWS1M | 10 gauge | 3-1/2 " | Sharp Point | Coarse Thread | Bugle Head | #2 Phillips | 1000 | Black Phosphate | Black | ASTM C-1002 |
| 312CDWS1 | 10 gauge | 3-1/2 " | Sharp Point | Coarse Thread | Bugle Head | #2 Phillips | 65 | Black Phosphate | Black | ASTM C-1002 |
| 312CDWS5 | 10 gauge | 3-1/2 " | Sharp Point | Coarse Thread | Bugle Head | #2 Phillips | 325 | Black Phosphate | Black | ASTM C-1002 |
| 312CDW25BK | 10 gauge | 3-1/2 " | Sharp Point | Coarse Thread | Bugle Head | #2 Phillips | 1625 | Black Phosphate | Black | ASTM C-1002 |
| MPCDWS | 0 | 0 | Multi | Coarse Thread | Bugle Head | #2 Phillips | Multi | Black Phosphate | 0 | 0 |
---
We Also Recommend
---