This is a general representation of what we carry in-store, please give us a call for pricing and availability.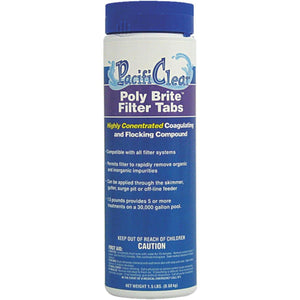 PacifiClear Poly Brite 1.5 Lb. Filter Clarifier Tablet
---
---
Poly-Brite Filter Tabs are a proprietary blend of clarifying polymers and coagulants in convenient to use 1/2 ounce tablets. When applied as directed, it permits the existing filtration system to remove organic and inorganic impurities, provide sparkle and clarity to water, and reduce sanitizer consumption. Compatible with all filter systems. Works in as little as 12 hours and leaves no floc to be vacuumed. Can be applied through the skimmer, gutter, pump pot, surge pit, or off-line feeder. 1-1/2 Lb. will provide up to 5 treatments on a 30,000 gallon pool, or 1 treatment on a 150,000 gallon pool. Tablets do not support combustion or generate any hazardous fumes.
---
We Also Recommend
---