This is a general representation of what we carry in-store, please give us a call for pricing and availability.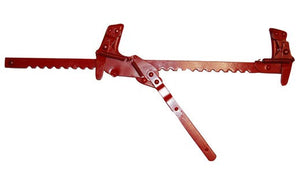 Ancra Cargo Fencing Wire Stretcher-Splicer 32"
---
---
Designed to help pull wire tight and hold it in place when splicing two wires together, Ancra's fencing wire stretcher-splicer is built tough to make the job easier. Able to work with both smooth and barbed wire, the fencing wire stretcher-splicer secures wire in place, leaving the user's hands free to make the splice or repair. The 32-in. painted steel body is built tough to be reliable and offers a 24-in. take-up of wire.

A controlled release ratchet helps reduce line breakage, and a hardened guide and clamp grip the wire firmly over a large area making for smooth and efficient operation. The fencing wire stretcher-splicer comes individually UPC labeled for retail sale and is sold as eaches in cartons of 2.
32″ painted steel body with 24″ take up
Secures wire in place leaving hands free to make the splice or repair
Works with smooth and barbed wire
---
We Also Recommend
---