This is a general representation of what we carry in-store, please give us a call for pricing and availability.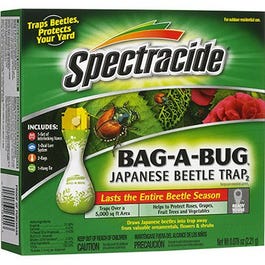 Bag-A-Bug Japanese Beetle Trap Kit
---
---
Spectracide Bag-A-Bug Japanese Beetle Trap2 is designed to draw Japanese beetles away from valuable ornamentals, flowers and shrubs to capture them inside the trap's bag. Helps to protect roses, grapes, fruit trees and vegetables and lasts the entire beetle season. This complete trap contains 1 dual lure system, 1 set of interlocking vanes, 2 bags and 1 hang tie. The dual lure contains both natural pheromones together with a proven floral lure to attract two to five times as many beetles as the commonly available floral lure alone. When full, these bags can simply be sealed and thrown away (see product labeling for details). Replacement bags and lures are available (sold separately). A constant source of aggravation for gardeners, Japanese beetles eat 300 types of trees and plants. Metallic green with coppery brown wing covers, these 3/8-inch long creatures are often found around homes and gardens.
---
We Also Recommend
---