This is a general representation of what we carry in-store, please give us a call for pricing and availability.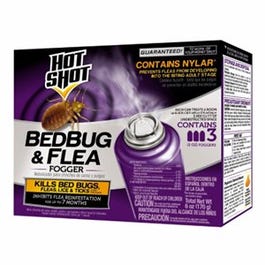 Bedbug & Flea Fogger, 2-oz., 3-Pk.
---
---
Hot Shot Bedbug & Flea Fogger kills bed bugs, fleas, lice, ticks and other listed insects. Contains Nylar insect growth regulator to control hatching fleas before they develop into the biting adult stage and inhibits flea reinfestation up to 7 months. Also kills beetles, boxelder bugs, cockroaches, earwigs, fire ants, flea eggs, flea larvae, adult fleas, flies, flying moths, gnats, grain weevils, hornets, lice, millipedes, mosquitoes, palmetto bugs, pharaoh ants, pillbugs, silverfish, sowbugs, wasps, ticks and yellow jackets. Perfect for use in apartments, attics, basements, boats, cabins, closed porches, condominiums, garages, homes, kitchens, and pet sleeping areas. One can of this product treats up to 2,000 cubic feet of unobstructed space. Read and follow all label directions before using this product. Treating bed bugs as part of a cycle is key to gaining control. For best results, use this product as part of a comprehensive bed bug treatment plan.
---
We Also Recommend
---