This is a general representation of what we carry in-store, please give us a call for pricing and availability.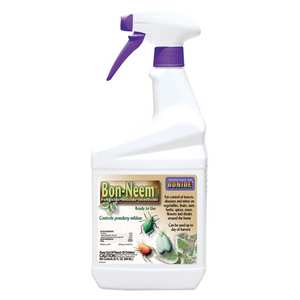 BONIDE BON-NEEM INSECTICIDAL SOAP SPRAY 1 QT
---
---
Bonide Bon-Neem Insecticidal Soap Ready-to-Use Spray is a broad spectrum fungicide, insecticide and miticide for control of insects, diseases and mites on vegetables, fruit, nuts, herbs, spices, roses, flowers, shrubs, houseplants, shrubs and more around the home. Kills stink bugs, box elder bugs, fungus gnats plus Brown Patch, Dollar Spot (on Turf) and Snow Mold. Bon-Neem Insecticidal Soap kills on contact and is safe to apply up to the day of harvest.
---
We Also Recommend
---