This is a general representation of what we carry in-store, please give us a call for pricing and availability.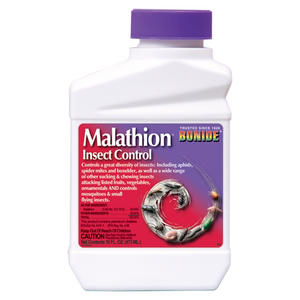 BONIDE MALATHION INSECT CONTROL CONCENTRATE 1 PT
---
---
Bonide Malathion Insect Control Concentrate controls a wide variety of sucking and chewing insects including aphids, spidermites, ants, earwigs, crickets, spiders and mosquitoes. Use on fruits, vegetables, ornamentals and houseplants. Apply using a tank sprayer, hose end sprayer, or watering can for listed fruits, vegetables and ornamental plants.
---
We Also Recommend
---