This is a general representation of what we carry in-store, please give us a call for pricing and availability.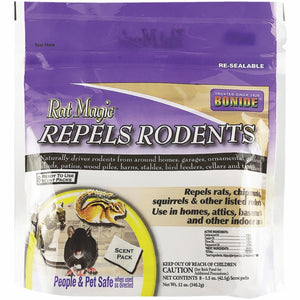 Bonide Rat Magic 12 Oz. Granular Rodent Repellent Scent Packs (8-Pack)
---
---
Rat Magic rodent repellent. Designed for outdoor use to repel rodents such as rats, chipmunks, and squirrels. Features a unique combination of essential oils. Naturally drives rodents from around homes, garages, gardens, sheds, patios, wood piles, barns, stables, cellars, and trash cans. Contains cedar oil, castor oil, clove oil, and peppermint oil. People and pet safe, biodegradable.
---
We Also Recommend
---