This is a general representation of what we carry in-store, please give us a call for pricing and availability.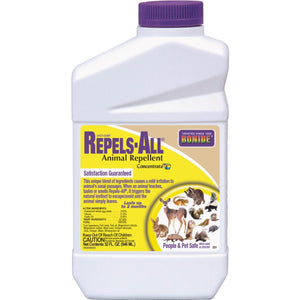 Bonide Repels All 1 Qt. Concentrate Animal Repellent
---
---
All-natural animal repellent that repels 3 ways: By sense of touch, taste, and smell. Protects plants and property, including structures, for up to 2 months per application. Repels vermin and other undesirable animals such as chipmunks, armadillos, skunks, and more. Rainfast after 6 hours. May be used on edibles. Contains garlic, dried blood, whole egg solids, clove, fish oil, onion, and wintergreen.
---
We Also Recommend
---