This is a general representation of what we carry in-store, please give us a call for pricing and availability.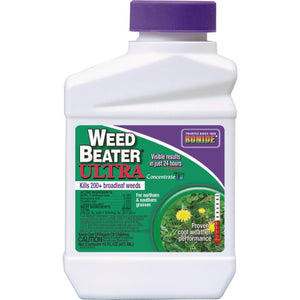 Bonide Weed Beater Ultra 1 Pt. Concentrate Weed Killer
---
---
Weed killer that is especially effective on over 200 hard-to-kill weeds, right to the roots. Visible results in just 24 hours. Rainfast once dry. Reseed in just 2 weeks. Superior cool weather performance, down to 45 degrees Fahrenheit, extends application window to early spring and to late fall, when weeds are most susceptible. Non 2, 4-D formula contains MCPA, Mecoprop-p, Dicamba, and Carfentrazone. Glyphosate-free.
---
We Also Recommend
---