This is a general representation of what we carry in-store, please give us a call for pricing and availability.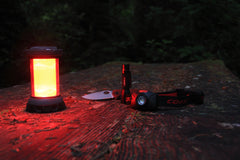 Coast Emergency Area Lantern
---
---
Prepare well, pack light, stay bright. As the simplest and most streamlined emergency area light in our line, the COAST EAL12 combines small-format recreation-style lantern lighting with an emergency mode for signaling under duress. Featuring a 4-mode smart switch, the light shines up to 168 lumens bright with multi-mode capability in two colors—white and red. For emergency situations, the flashing red option catches the eye quickly and signals for help, and a 38-hour run time means you have four nights of light on one set of batteries. Stand the light up on its base or hang it from a cord using the split stainless steel handle whose two arms are engineered to fold down independently or come together to make a complete arc. Constructed of high-strength TPE and TPR, the EAL12 is impact-resistant and ready to illuminate the campsite, roadside, and more.

With Coast's commitment to quality, the EAL12 Lantern is impact resistant, weather resistant and its LEDs are virtually unbreakable. The EAL12 Lantern is backed by Coast's five-year warranty against defects in materials and workmanship.
---
We Also Recommend
---