This is a general representation of what we carry in-store, please give us a call for pricing and availability.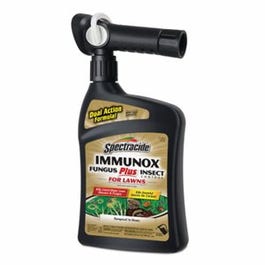 Immunox Fungicide Plus Insect Control, 32-fl. oz. Ready-to-Spray
---
---
Dual-action Spectracide Immunox Fungus Plus Insect Control For Lawns kills listed major lawn diseases and fungus plus kills harmful insects on contact. The ready-to-spray hose-end concentrate is rainproof within hours, so it can't be washed off by rain. This formula is highly effective when used to prevent diseases or when applied at the first sign of disease. Start treating when grass begins to turn green in the spring or when signs of diseases and insect damage are first noticed. For best control, treat every two weeks. Just attach to your garden hose and spray the lawn until wet - the QuickFlip hose-end sprayer activates at the flip of a switch. Use Spectracide Immunox Fungus Plus Insect Control For Lawns to control insects such as ants, sod webworms, fleas, brown dog ticks and others as listed, as well as lawn diseases such as black spot, brown patch, rust, powdery mildew and others as listed. One 32 ounce concentrate bottle covers 2,500 square feet of lawn.
---
We Also Recommend
---