This is a general representation of what we carry in-store, please give us a call for pricing and availability.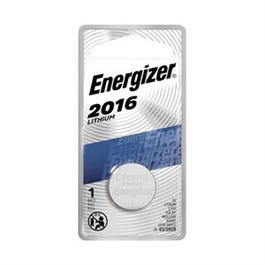 Lithium Watch/Calculator Battery
---
---
Energizer, lithium watch & calculator battery, comparable to Duracell #DL2016B. Don't let their small size fool you: This Energizer 2016 Lithium Coin 3-Volt Battery delivers big time on long-lasting, dependable power for your coin-battery-operated items. From heart rate or glucose monitors, to remotes, keyless entry systems, key fobs, watches, toys and games, and even more specialized devices, our coin batteries are compatible with the devices that fit your life, so you can keep going. These reliable and durable Energizer Coin Lithium Batteries are able to withstand a wide range of temperatures and can hold power in storage for up to 10 years, giving you coin battery power you can depend on. Responsibly designed with zero mercury and child-resistant safety packaging to keep your little one safe, it's easy to see why Energizer Lithium Coin Batteries are the right choice for your specialty devices.
---
We Also Recommend
---