This is a general representation of what we carry in-store, please give us a call for pricing and availability.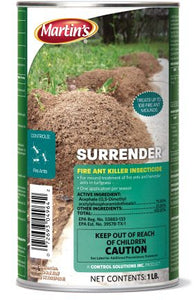 Martin's Surrender Fire Ant Killer Insecticide
---
---
Surrender Fire Ant Killer contains 75% Acephate and is used for controlling Fire Ants. One can of Surrender will treat up to 108 Fire Ant mounds. Available in one pound containers.
Product Type: Consumer
Use Sites: lawns, outdoors, turfgrass, fencerows, roadsides, ditchbanks
Effective Against: ants, fire ants, harvester ants
Active Ingredients: Acephate 75%
States Registered: AL, AR, FL, GA, KS, LA, MS, NC, NM, OK, SC, TN, TX, VA, WV
PRODUCT SPECIFICATIONS
1 pound     Code: 82004964
| Product | UPC | Quantity | Width (in) | Depth (in) | Height (in) | Weight |
| --- | --- | --- | --- | --- | --- | --- |
| Each | 072693049642 | 1 | 4 | 4 | 7 | 2 lb |
| Case | 072693496422 | 12 | 13.5 | 17.5 | 7.75 | 17 lb |
| Pallet | | 60 cs. | | | | 1085 lb |
| | | | | | | |
8 ounce     Code: 82004969
| Product | UPC | Quantity | Width (in) | Depth (in) | Height (in) | Weight |
| --- | --- | --- | --- | --- | --- | --- |
| Each | 0726930496971 | 1 | 4.125 | 4.125 | 4.125 | 0.635 lb |
| Case | 072693049611 | 12 | 13.50 | 17.50 | 4.75 | 9.50 lb |
| Pallet | | 120 cs | | | | |
| | | | | | | |
---