This is a general representation of what we carry in-store, please give us a call for pricing and availability.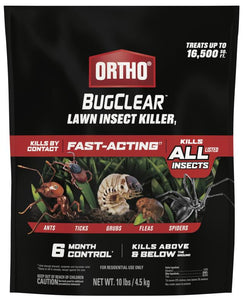 Ortho BugClear Lawn Insect Killer1, 10 lbs
---
---
Protect your backyard and enjoy your lawn with Ortho® BugClear™ Lawn Insect Killer1 Granules. The fast-acting insect killer starts to work in minutes (except against fire ants) and kills by contact to protect against all listed insects including ants, spiders, ticks, armyworms, fleas and grubs. Use on your lawn, ornamentals, home perimeter, vegetable garden and flower beds to protect against pesky insects, killing them outside before they come inside (refer to product label for complete lists).
Works above and below the ground. Create a long-lasting bug barrier for up to 6-months of ant control and 3-months of residual protection against spiders, ticks, beetles, and other listed insects (see product label for full list). Apply the yard bug killer early in the spring before infestation or whenever insect activity or damage is first observed. For best results, apply with a Scotts® spreader and then immediately water in granules. Each 10-lb. bag treats up to 16,500 sq. ft.
---
We Also Recommend
---