This is a general representation of what we carry in-store, please give us a call for pricing and availability.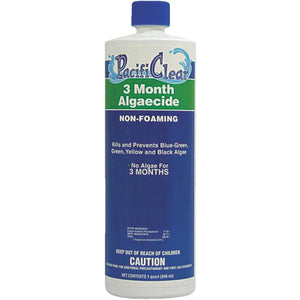 PacifiClear 3 Month 1 Qt. Liquid Algaecide
---
---
16 Oz. treats 10,000 gallons of pool water every 3 months to prevent algae growth. Add 32 Oz. per 10,000 gallons for severe algae growth. Kills and prevents blue-green, black, and mustard algae. Reduces overall pool chemical treatment cost by killing existing algae growth and preventing future outbreaks. Non-staining, non-foaming, odor free, and non-irritating. Ideal for spring start-up, season end closing, and when leaving on vacation to ensure a clean pool.
---
We Also Recommend
---