This is a general representation of what we carry in-store, please give us a call for pricing and availability.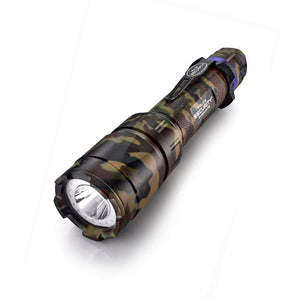 Police Security Camo Trac Tact 350 Lumen With Uv Flashlight
---
---
350 LUMENS/120 M BEAM DISTANCE/2.5 HR RUNTIME
Break out the camo, hunters, and campers. The Camo Trac Tact 395 NM UV Flashlight, that is. With the latest Chip On Board (COB) technology, it delivers 350 lumens of bright LED light and up to three hours of run time. Add a red LED for night vision and a 395 nM UV light for blood tracking and you know this ultra-bright, high-quality flashlight is designed just for you. Police Security Soft Switch technology allows the seamless transition between its 5 modes. This rugged, architectural-grade aluminum flashlight is also impact and weather-resistant and has an industrial-grade belt clip. All hidden in Camo.
---
We Also Recommend
---