This is a general representation of what we carry in-store, please give us a call for pricing and availability.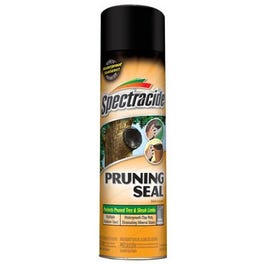 Pruning Seal, 13-oz. Aerosol
---
---
Spectracide Pruning Seal helps protect trees and smaller plants from diseases that can enter through pruned areas. It also effectively seals and waterproofs clay pots to eliminate mineral stains, along with wooden planters, rain gutters, roof flashings and small sections of asphalt driveways. The waterproof aerosol spray also be used to coat the underside of a lawn mower deck to protect from debris damage. To use Spectracide Pruning Seal, shake well and hold can upright 6-9 inches from the area to be sprayed. Spray in short bursts to prevent dripping and runoff. Clean the nozzle after use. When treating damaged or decayed limbs, cut back to sound wood first. When sealing the inside of planters, spray lightly to prevent dripping. When sealing small cracks or seams, make two applications - apply the second coat of Spectracide Pruning Seal after the first has completely dried. See label for complete directions.
---
We Also Recommend
---