This is a general representation of what we carry in-store, please give us a call for pricing and availability.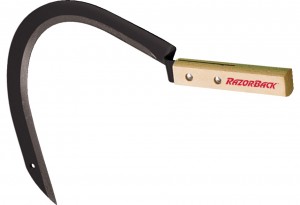 Razor-Back Grass Hook with Short Wood Handle
---
---
The Razor-Back grass hook is good for cutting tall grass, vines, and thick brush. The sharp curved blade makes it easy to hook and cut grass, vines, and brush. The handheld design is lightweight and easy to store.
DIMENSIONS
16″ height × 12″ width × 1.5″ depth
---