This is a general representation of what we carry in-store, please give us a call for pricing and availability.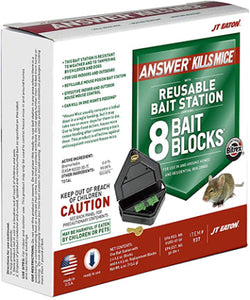 REFILLABLE MOUSE BAIT STATION W/ 8 BAIT
---
---
Refillable rat and mouse bait station. Kills Norway rats, roof rats and house mice. They usually consume a lethal dose in a single night's feeding, but it may take two or more days from time of bait consumption to die. Effective against anticoagulant-resistant mice and rats. For interior or exterior use. Contains: .01% Bromethalin. Packed 1 Refillable Tamper Resistant Bait Station with 1 oz. of Top Gun Bait and 3 oz. additional baits.
---
We Also Recommend
---