This is a general representation of what we carry in-store, please give us a call for pricing and availability.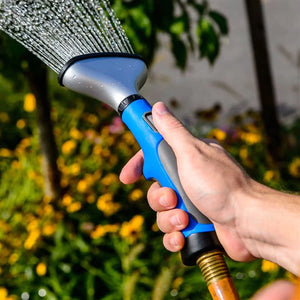 Swan SoakerFAN Spray Nozzle
---
---
Swan's SoakerFan® Spray Nozzle features a special trilobular-shaped head, designed to deliver a gentle mist of water in a fan shape for evenly dispersed watering over a larger area of your lawn or garden.
Simply attach this misting hose nozzle to any 1/2-inch garden hose, 5/8-inch garden hose or 3/4-inch garden hose for a wide angle of mist sure to cover flowerbeds and stretches of lawn and landscaped areas. And since this garden hose mister nozzle is free of phthalates, you can feel comfortable using it to water your fruit trees as well.
Swan's SoakerFan® Spray Nozzle is made of a durable and lightweight ABS/TPR construction and features an ergonomic handle design so your hand won't get sore or tired, even after extended use. The handle is also insulated to keep your hand from feeling the effects of cold water running through it, even without wearing garden gloves.
A thumb wheel at the top of Swan's misting nozzle for hose allows for convenient and easy water-volume adjustment.
---
We Also Recommend
---